About heat recovery ventilation system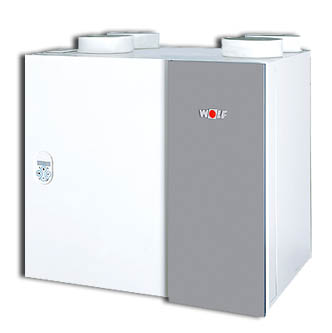 This modern-technology appliance should be a vital part of every well-insulated household. Unfortunately it is yet to be widely used and for that the main reason is that it is simply not well-known, and the installation costs are considered fairly high.
Because we breathe out carbon-dioxide and water vapour, which will not leave our environment through the almost air-tight windows and doors without ventilation, we are creating poor quality air around us. We can improve the quality of air inside our apartment by frequent airing, however this can cause huge heat loss during winter time.
A modern heat recovery ventilation system can sustain high-quality air inside the home, without the need to air the apartment frequently; using only as much energy as a small light bulb (15-20W).
When the system is in use, the aspirated, poor-quality air heats up the good-quality intake air with very high efficiency; meaning, when the aspirated air is 20°C it heats up the intake air to a pleasant 17°C. This way the intake air will only need to be heated a few more degrees to match the inside temperature of the house. Another great benefit of using this system is that we will not have a draft sweeping through our home during summer time. The system exchanges the air in a slow, steady manner.
There are a few reservations towards the usage of these appliances (noisy, non-hygienic, etc.), which we hope to disperse right away. These modern devices are silenced and their filters are easily accessible for cleaning or replacement. Cleaning and/or filter replacement can be carried out by the owner, there's no need to call a technician to do interim maintenance.
After examining the floor plan, we will determine the intake and extraction points, as well as the required capacity/size of the appliance. To come to a financially reasonable decision, other than the installation costs, we will have to consider the long-term savings as well, which can easily be 50% off of the energy bills, only by installing this intelligent solution.
(Quote the following code in your enquiry and we grant you a 10% discount of the price of your next project! NHRVS)