How to start your loft insulation?
If your loft cold, mouldy or you feel 'occasionally stormy draughty', your loft insulation is completely missing or insufficient, not airtight.
Ecopropi Ltd will give you professional recommendation on how to approach such a project, after understanding your ideas, and learning about the location during the initial inspection. We will help you choose the adequate method, that suits best the specifications of your loft. Within a couple of days you will be provided a detailed, customised quotation that will contain the entire engineering and financial schedule as well.
About Ecopropi's loft insulation technique:
Our experience shows that one of the most versatile methods in insulating your loft is using spray foam insulation. It's fast and easy to apply.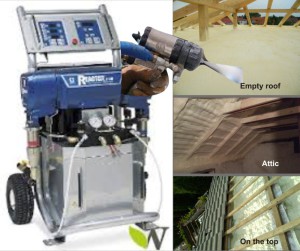 The roof is a very delicate structural part of the building. The easiest escape route for the upward moving hot air is through a poorly insulated loft area. If you are considering utilizing your loft, it is highly recommended to use spray foam insulation because of its short drying time and the homogenous layer it creates. If your loft is already in use, and you are only planning to carry out refurbishment works, the insulation can be done from outside too.
Once dried, sprayed foam will also increase rigidity of the roof, preventing it from minor structural movements which could lead to cracks on the walls.
Ecopropi's loft insulation is fast and effective against cold and moisture as well, so when we are done, you will feel just as cosy in the loft as in any other area of your home.
To have a complete picture about the importance of eco-conscious building solutions, please go to our News page. If you have any questions or want to contact us, leave your contact details and notes here.