Condensing boilers by WOLF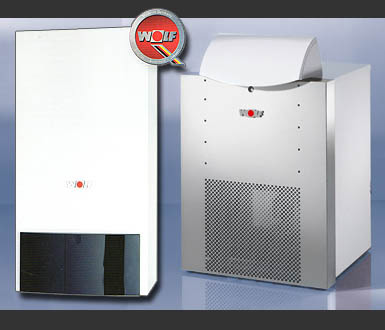 The most commonly used appliance in building technology, due to its widely-known efficiency and reliability.
Another advantage of using a condensing boiler is its low installation cost. Many professionals have the misconception that condensing boilers do not go well with radiators. Well, the newest heating regulations have taken into consideration systems with changing temperatures.
This means, that according to the required heat, you will not have to turn your boiler on/off, but you would be able to control the heat dissipation by controlling the temperature of the water inside the boiler.
This has numerous advantages. It reduces the number of start-ups, therefore increasing the life of the appliance and at the same time reducing heat loss, which may occur whilst in stand-by mode.
When radiators were first designed, engineers would prepare them for the "worst case scenario"; so that radiators would work even in the coldest of circumstances.
The "outside winter temperature" is an empirical value that is ascertained in the relevant regulations. However we only experience this value (the lowest "outside winter temperature") for a very short time during the year, maybe a few days only, and mostly during the nights. Most of the time the required heat is substantially lower than this, so the temperature of the water in the radiator could be lowered as well. This way the boiler could be used in condensing mode.
When you consider the fluctuation in domestic heat prerequisites, you will find that in 83% of the entire time, the real heat requirement is lower than 50% of that of the designed heat capacity.
This could be accurately measured, so the advantage of changing your regular boiler to condensing boiler can easily be estimated. Only by changing the boiler but still using the old heating installations, the indicated efficiency of 108-110% cannot be achieved, but the reality of 103-104% means a great deal of savings too.
Changing your boiler is a good opportunity to increase the usage comfort as well. We recommend using "outer hot water tank" instead of the old "combo-appliances". This will ensure an increased supply of hot water and concurrent use of multiple taps.
In case you do not have enough room for this type of installation, a built-in tank system can be a good solution. One of our most popular brand of wall-mounted condensing heating centre is WOLF .
(Quote the following code in your enquiry and we grant you a 10% discount of the price of your next project! NNGCB)